How to know Etisalat number? Personal mobile number plays a vital role in your privacy. Still, it is essential to be acknowledged from your number as necessary because when you need to give your number to someone for any purpose, you should know it yourself. Thus Etisalat's provides you with an easy code to find that out.
Etisalat provides several exceptional customer services where they don't even charge money for their free services. And from my point of you, this is unique because this kind of service should be free of cost, but many telecommunications companies charge from their clients when they provide their customer care services.
If you are wondering how I can know my Etisalat's number details, then this article is very helpful for you. So, let's start.
How to know Etisalat mobile number?
To find out your Etisalat number free of cost through your mobile phone you have to follow these three methods. You can quickly check on your phone by these methods and check the number details.
Dial *101#, and then you need to press the call button.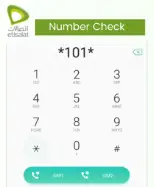 A pop-up with some options will be shown
Then, press 1 (account management) and send it.
Now, you need to press 3 for account information.
In the next step, choose "know my number"
Click "3" and send it
Finally, your mobile phone number will appear on your mobile screen. (Your mobile number is… )
The shortcode is: Dial *101*1*3*3 and send it.
Alternative methods
You can dial 101 to talk to a customer service representative who will help you out and let you know your account details and your number, or…
… you can also dial*248# to get your number details.
My Etisalat app – login and you will see you phone number
You can only find your mobile number details through your SIM. You cannot find any other customer's phone number through your sim as the company will take care of customer privacy.
Give a missed call
The traditional method still works if you have another device to check.
Having balance
If you have balance, just call it and see your number on the another's device display.
Not having balance
If you dont have balance, obviuosly you can't make a call, but there is a service you can use.
Etisalat Collect Call Service
This service is works for either prepaid and postpaid numbers, and allows you calling other Etisalat number for free, as you will borrow other's balance.
How dos it work?
Customers can create his personal blacklist just by dialing *132#.
Blacklisted numbers are automatically rejected without disturbing the caller.
The cost and details of collective calls are indicated in the recipient's (payer's) bill.
This service cannot be used while roaming outside the UAE.
Only Etisalat customers can use this service.
Etisalat number check code
It is pretty easy to check your number by the principles mentioned without any charges and worries.
You have to dial 101.
Your phone number will appear on your mobile screen.
Etisalat Sim Owner Number Check
Unfortunately, there is no official way to do so, but you can try your luck and check the owner of any number via emobiletracker.com in the United Arab Emirates.. This 3th party service can help you to identify it.
First of all, visit the website
Type the number to check
Then, add the security code
Finally, click on "Track Now"
The info of the owner number will be propted
We cannot assure you will get the desired info, as the service not always work