If you are a DU customer, you might want to change your DU internet password or want to check the username and password of your router to keep you WIFI secured. So, how can you do all of these things? In the United Arab Emirates (UAE), DU is one of the two most well-known internet companies. Please keep in mind that the DU network utilizes a variety of routers.
This article will tell you how to change your DU password (internet and the router per se) and check your username and password to enter the router. So, let's start.
DE wifi password change
How to Change DU WiFi Password? To change DU Wi-Fi password, you will need to use local IP to access the router's setup page; the IP address can be found on the back of the router you use for the internet.
Type the IP address on a browser (it is generally something like 192.168.1.1)
Then enter your router's username and password
You will have to navigate to the wireless section and change the password if necessary.
Also, examine your internet security level (WPA/WPA2).
If you wish to modify your WiFi name, modify your network name.
Reboot after saving your settings.
If you don't know how to effectively get into the router (or even its user and password), keep reading.
How to change Etisalat wifi password
DU router login
How to log into a DU router? To log into your DU internet router, this si what you should do:
Connect one of your devices to your router's internet, preferably via ethernet cable
Now, type the IP address given above into the address bar of your favourite browser
Press "enter"
Then, you will be led to the login page of your DU router
Now, type in the password and username
Finally, log in by pressing "enter"
How to connect WIFI without password
Du Router Login Username and Password
Default user and pass
The default login on most DU routers is admin. The default password for a DU router is usually admin. These are the login details for example for the following DU routers:
Linksys Velop WHW01
Tp Link M7350
Tp Link MR6400
ZTE MC801
For Huawei 5G CPE you will have to check it on router label. However, you can try with the following "user" and "pass" combinations.
root / adminHW
admin / password
admin / Admin@huawei
How to Check DU router Username and Password?
Most routers come with labels with all the information you'll need to access the admin dashboard printed on them. If the information supplied here is incorrect, or if you have a different type of router in your home or workplace, you should check the sticker on the bottom of the router for the right login credentials. The steps below should be followed to log into your DU internet router:
Connect your phone, tablet, or computer to the internet through your network.
In the address bar of the browser, type the IP address.
You'll be brought to the login screen for your DU router after pressing enter.
Fill in the login and password for the Du router.
To log in, press enter.
Mostly, DU internet routers have the same username and password which is admin. But it's possible that the DU router login and password mentioned here do not apply to you. This frequently happens if your password has previously been changed by someone else. When most individuals initially get their routers, they do this.
You might not realize it, but router passwords are similar across the board. If you can enter one, you can probably log in to any other by trying all the other basic passwords for most routers. The majority of routers on the market today, for example, have admin as both a username and a password.
This is true regardless of whether one considers Huawei, Linksys, Cisco, or any other router maker. In the vast majority of circumstances, the login credentials are the same. As a result, it's best to replace yours as soon as possible. On the other hand, people tend to forget their new passwords.
This is because the Du router password is rarely used. The WiFi password is what is utilized. Those are the things that people remember. However, router passwords are only used once in a blue moon. As a result, it's very common to forget yours. But what happens after that?
Luckily, there is a solution to this big problem. All you have to do now is perform a DU router reset.
How to reset DU router
To do so, look for the reset button on the back of your router. It's a teeny-tiny button. You'll almost certainly need to use something pointed to press this button.
Resetting your DU router can take up to 15 seconds. The device's lights will blink off and on, indicating that something has happened. After that, you should be able to log into your router using your normal login credentials.
FAQ
How to check du balance online?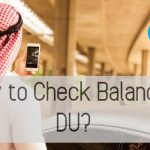 Follow the steps below to determine how many minutes are remaining on your prepaid or postpaid sim.
How can I deactivate my DU monthly data plan?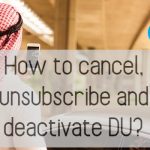 Daily du packages are valid for 24 hours. After this time, they will be automatically renewed every day. To deactivate any DU daily data plan <<