I lost my Emirates ID, what to do? If you are a resident or citizen of the UAE, then you know that the Emirates ID is the most important document in the country. The Emirates ID is your identity card as a resident and is required for all the documents you need to bring with you here – whether it's a driving licence, rental property, utility connections and so on.
But what happens if you lose your Emirates ID? Here you can find the steps you need to follow when you lose your Emirates ID.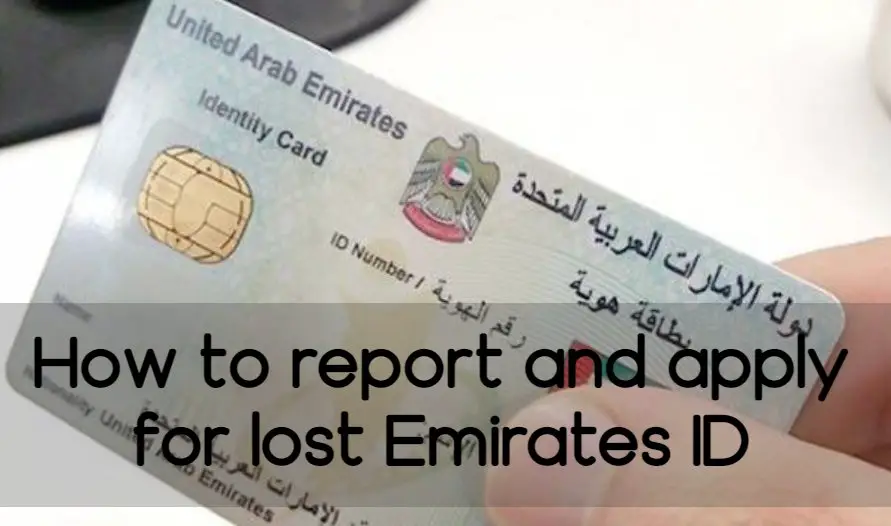 Carrying Emirates ID at all times is compulsory for UAE residents and citizens
Emirates ID is an identity card issued by the Federal Bureau of Identification and Citizenship (ICA). If you live in the UAE, you should be aware of the importance of this card. All citizens and residents of the UAE are required to carry it with them at all times. If you have lost your Emirates Identity Card in the UAE, please do the following.
Lost Emirates ID – Steps to take
If your Emirates ID Card is stolen, lost or damaged, take the following steps to replace it:
Notify the authority
Apply for a replacement
Pay the fee
Get the new ID
How to report lost Emirates ID?
Take an official document so that the centre can deactivate the card immediately.
Then, report it to the nearest ICA Customer Happiness Centre. Find them here
You can also request a copy of your lost Emirates ID card. If you need to report a damaged ID, you must also bring the old one.
Proof of identity
Here's what you need to bring as proof of identity to report:
UAE nationals: valid passport and family book
GCC nationals: valid employment certificate or card, school registration certificate, valid marriage contract, business license, real estate contract, rental agreement or certificate of dependency.
Expatriates: valid passport with valid residence permit.
Kids under 15 years: valid birth certificate and one passport-size colour photograph (white background). (Parents)
How to apply for lost Emirates ID
Once you have reported an incident, you should immediately apply for a new Emirates ID. You will need to complete a form to replace your lost Emirates ID card.
How?
The fee to replace a lost Emirates ID card in Dubai is AED 300.

Documents needed
UAE nationals (over 15 years old).
a. Original passport and family book (original and photocopies).
b. Proof of an identification number issued by one of the authorities in case the card is lost.
c. Photocopy of the lost card

UAE nationals (under 15 years of age)
a. Personal photograph (4.5 X 3.5 cm) with white background
b. Original birth certificate

UAE residents(over 15 years old)
a. Valid original passport
b. Residence permit or visa
c. Photocopy of lost Emirates identity card.

Residents to be included in a parent's passport
a. Original passport
b. Original birth certificate or father's passport or ID card.
Pay the fees

Here you can find information about the charges for replacing a lost, stolen or damaged Emirates ID:
Replacement fee: AED 300
Application fee via a call centre: 70 Dirhams | Electronic form: 40 DIRHAM
You must submit the fees together with the application form. These fees apply to all UAE nationals, Gulf Cooperation Council nationals and foreign nationals.
Get your ID
When you apply for a replacement card, ICA will send you a text message about the application and the expected delivery date.
You will receive your new Emirates ID card within 7 working days of submitting your application. Customers should contact Emirates Post to collect their ID card after receiving notification that the card is ready.
Contact the customer service centre at 600 599 999.

Is it necessary to carry Emirates ID?
The Emirates ID is mandatory for all residents and citizens of the country and you must carry it with you at all times. It proves and confirms a person's identity.
The Emirates ID issued by the Emirates Identification Authority (EIDA) contains all your personal details, including your photo and biometric (fingerprint) data. This data can be accessed via a PIN issued to all cardholders.
Because of its importance, it is, therefore, essential that you keep your card in a safe place at all times.