How to change Emirates ID mobile number? If you need to use your Emirates ID to obtain any government services, you may need a one-time use password (OTP) to complete the required transaction or to register on the integrated Emirates ID portal for any reason.
The vaccination campaign in the UAE is in full swing and the government has encouraged all residents and citizens to get vaccinated. When you register on the DHA app, you will find that you only need an MRN number to register. This means that the OTP will be sent to your registered mobile number, which is linked to your Emirates ID.
Many Emirates IDs are linked to the phone numbers of the HR department of the company or the professionals concerned. This leads to confusion because you need to find out who owns the phone number.
To avoid this, it is best to have your phone number linked to your Emirates ID. ICA offers smart services that allow you to do this online without having to go to a government office. In this article, we will explain step by step how to change the mobile number linked to your Emirates ID.
How can I update my mobile number in Emirates ID?
How can I change my emirates id phone number? If you need to update your mobile contact number in Emirates ID, the process is divided into 3 main steps that you can find detailed below:

Stage 1 – Request information
Get into the ICA Smart Services website

Then, fill in the form as per the instructions detailed below. All the fields are mandatory.
Enter your current nationality as shown on your Emirates ID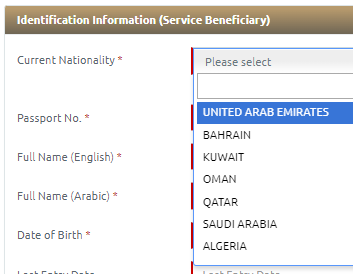 Depending on your choice, you will be asked if you own or not the Emirates ID
Once you have entered your nationality, you will be prompted to enter your File Number, formed by department / year/ category / sequence
Your UAE visa number can be found on your resident visa just above your passport number.
Residents of Dubai should select the three-section number to enter their case number.
Residents of other emirates should continue the number with four sections.
Enter your Emirates ID number
Enter your name in English as it appears on your Emirates ID card.
Your name in Arabic will be filled in automatically
Enter your passport number
Select your date of birth as it appears on your passport
You must now enter the last date of your entry into the UAE as it appears on your passport.
Enter your email address
Once you have completed the form, there will be another form right below it where you will need to enter your mobile number and legal address.
Check the box with your registered mobile phone number. Enter your new mobile phone number here.
You will now receive a one-time password (OTP) for the mobile number you are verifying. Verify your number and complete the captcha verification process by clicking "Continue".
Stage 2 – Review application
This is where you verify your application and all your details. Check all the information you have provided to make sure it is correct.
Stage 3 – Application fees (Payment)
Once you have completed the forms, you will be taken to the payment page. The cost of the application to change the mobile number associated with your Emirati ID is AED 52.10.
Once the process is complete, you will receive an email with an invoice attached for the payment you have made. Your phone number will be updated within 3-7 days.
You can check the status of your Emirates ID to see if it has been updated. If the device is rejected, you will receive your money back.
Requirements
Copy of emirates ID.
Copy of your passport & visa page . (Date of birth & passport number will be required).
Keep the exact date of your last entry/arrival to UAE.
AED 52.00 to pay processing fees. (paid by credit card).
How to check registered mobile number in Emirates ID? 👈
HOW CAN I UPDATE THE OTHER PERSONAL INFORMATION IN MY EMIRATES ID?
According to the Federal Identification and Citizenship Authority (ICA), you must update all personal information within one month of the change. Individuals must visit the ICA customer service centre in the UAE with their original passport and Emirates ID card to update this information.