How can I update my emirates ID on Etisalat? The TDRA (Telecommunications Regulatory Authority) has introduced a regulation that requires you to update the registration of all your Etisalat mobile numbers by updating your profiles with valid and current identification details.
This means that Etisalat customers need to renew their Etisalat mobile number (SIM) by adding all the necessary details to their personal information. Then, their mobile account needs to be re-registered. If the registration fails, the number can be deactivated.
The procedure is not difficult, but you might appreciate our step by step guide.
How to Update Emirates ID in Etisalat

To perform the Etisalat Emirates ID renewal, all you need to do is update your profile with the updated, original and valid identification details. Then, indicate the mobile numbers (SIM cards) under your name for which you want to renew your registration.
Renewal of registration for your mobile accounts is mandatory
The numbers you do not wish to renew will then be deactivated and removed from your profile. Therefore, any unsuccessful registration will result in the deactivation of these mobile numbers.
Update Emirates ID Etisalat – My Etisalat UAE App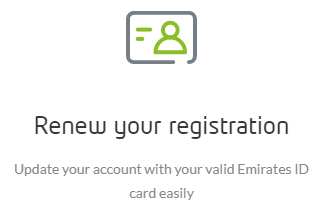 Get the app here (via QR) or directly there for Android or Apple devices
Install and launch the app
Open the app, log in and get started. Go to step 10 on this guide.
If you dont know your login details, click on "having trouble"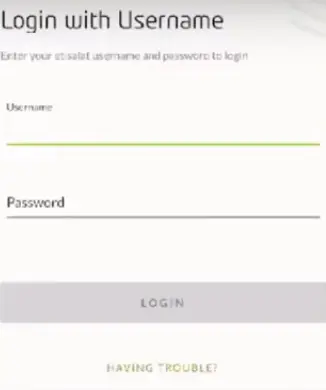 Type your mobile number and continue
You will get a PIN code via SMS you should type on the box to verify you are the owner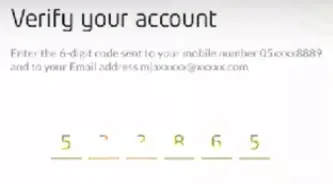 Click on "reset password" and select a new one.
Confirm and continue.
Now you can log in
Enable your face cam access of fingerprint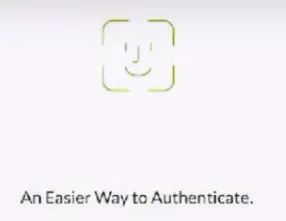 Select your primary account
Click on "account settings"
Select all the asociated numbers you want to keep
Now scan your Emirates ID (front and back)
Take a picture of yourself
Now, enter your primary mobile number and Email ID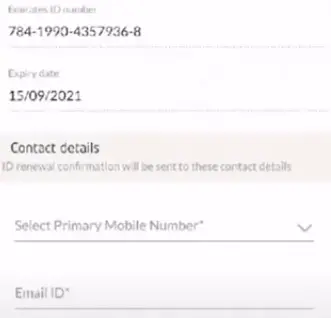 Submit it
You will reveibe an SMS from Etisalat verifying your renewal with emirates ID within 2 working days.
Update Emirates ID Etisalat – online
The updating can be done either Online, via APP or in Outlets & Payment Machines
First of all, get into the Etisalat website
Click on "my account" and sign in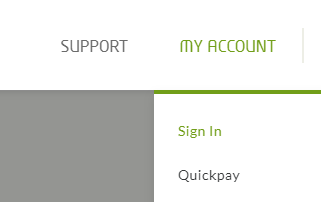 Type your SIM card number or your mobile phone number (the one to be renewed (or the ones))
You can also top up your sim card using the Etisalat update id.
At this step, update the numbers to keep. The unregistered ones will be disconnected and removed
As long as the associated ID is valid, the associated mobile number(s) will remain active
Then, you will see an option there that includes your customizable number. Enter your Emirates ID.
Enter your number that you want to reactivate, and then click "Next".
If the ID expires, you have to renew it again in order to keep it active. If not, any associated number will be deactivated
Documentation needed

Here is the list of documents you need to renew your Etisalat Emirates ID online from your mobile or computer.
| REQUIRED DOCUMENTS | WHO |
| --- | --- |
| Valid Emirates ID (original) | UAE national |
| Valid Emirates ID or GCC ID or  GCC passport (original) | GCC national |
| Valid Emirates ID | UAE resident |
| Valid Emirates ID (Original) | People of determination |
| People of determination card | People of determination |
| Government Decree or valid Establishment Card (for government entities) | Government/business entities |
| Valid Trade License (for business entities) | Government/business entities |
| Valid Emirates ID and passport with visa page of the authorised person (for both Government and business entities) – (Original) | Government/business entities |
Documents needed for Etisalat Emirates ID renewal
Etisalat SIM card registration renewal 👈
When the expiry date has passed (Update Emirates Id)
In the same way, you can also update your Etisalat emirates id or reactivate your sim card through the Etisalat app as well as through Etisalat outlets' workspaces and portion machines.
In either case, the activated flexible number is important or remains dynamic until the ID becomes illegitimate. If the ID has expired, you must reactivate the registration of the compact number.
If you do not re-register your ID, these flex numbers will be blocked or isolated. An automatic notification will also be sent to remind you to update your ID details.